A DataOps Article.
What is the Consumer Data Right (CDR)?
You may have heard it mentioned, particularly if you're in "Open Banking". But CDR is the future of how we access and ultimately share our data with "trusted" third parties.
It will be introduced into the Australian banking sector initially from the middle of 2020, with scope/functionality evolving in phases, and ultimately roll out across other sectors of the economy, including superannuation, energy and telecommunications.
Vendor Benefits
The Consumer Data Right is a competition and consumer reform first!
Reduced sector "monopolization" (increased competition).
CDR encourages innovation and competition between service providers.
Access to new digital products & channels.
New, to be innovated, customer experiences.
Consumer Benefits
Immediate access to your information for quicker decision making.
Better transparency of vendor(s) pricing and offers.
Increase in products to support your lifestyle.
Consumer power e.g. ease of switching when dissatisfied with providers.
Vendor Risks
CDR Compliance is mandatory for Data Holders
Implementing CDR (on top of legacy platforms) is non-trivial.
Non-compliance penalties may be severe (fines and trading restrictions)
CDR is rapidly evolving & continually changing. Continuous conformance validation & upkeep required.
Increased access to data, means increased "attack footprint".
Be warned! Although the CDR is expected to create exciting new opportunities, there are also clearly defined conformance requirements. In a nutshell, breaches of the CDR Rules can attract severe penalties ranging from $10M to 10% of the organization's annual revenue.
Who is responsible for CDR?
Ultimately CDR may evolve to a point where it is self-regulating. However, at present at least, the accreditation of who can be part of the ecosystem (i.e. Data Holders & Data Recipients) will be controlled by the relevant industry regulators*.
*In Australia the ACCC is responsible for implementing the CDR system. Only an organisation which has been accredited can provide services under in the CDR system. An accredited provider must comply with a set of privacy safeguards, rules and IT system requirements that ensure your privacy is protected and your data is transferred and managed securely.
How do consumers keep their data safe?
The CDR system is designed to ensure your data is only made available, to the service providers, after you have given authentication and consent.
Note: The diagram below, based on Australian oAuth2/OIDC security CDR guidelines, shows the key interactions between the Consumer, The Data Recipient (e.g. a Retailer App on a Phone) and a Data Holder (a Bank).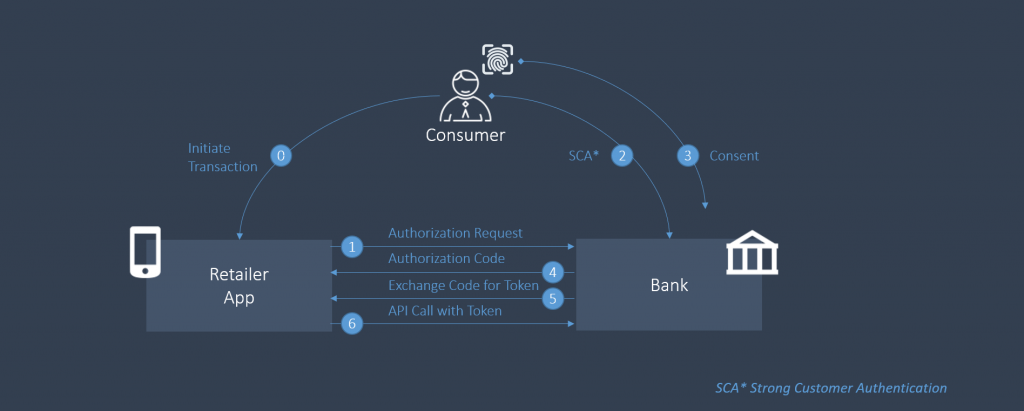 Australian CDR uses oAuth2/OIDC Hybrid Flow
Consumers can control what data is shared, what it can be used for and for how long. Consumers will also have the ability to revoke consent and have information delete at any time.
CDR is the beginning of an interesting new information era. Learn more about the Consumer Data Right and accreditation on the CDR website.